Award in Indian Head Massage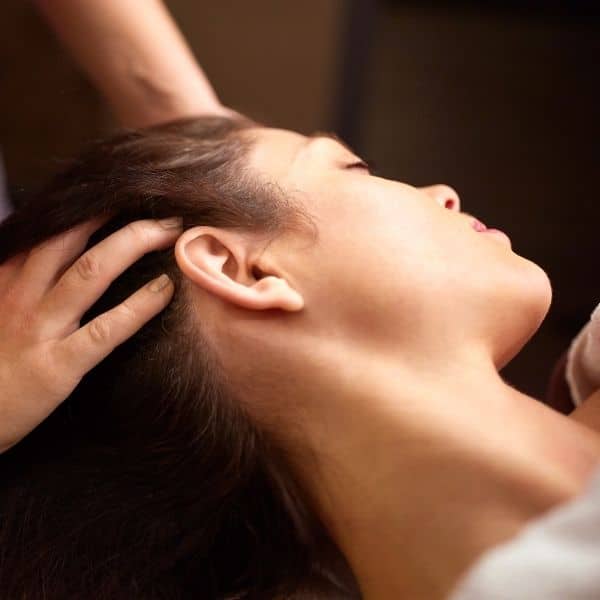 Award in Indian Head Massage
Qualification Levels: CIBTAC Level 3 (MQF Level 4) QAN No. 603/1936/7.
Champissage is better known as Indian Head Massage – an alternative medicine massage. This Head Massage is a holistic treatment that uses acupressure massage on head, face, neck, and shoulders. 
The course consists of 2 modules:
T101: Monitor and maintain health and safety in the salon  

PA1: Provide Indian head massage
Students attending this qualification will learn about:
Indian Head Massage is a holistic head treatment that uses acupressure massage to release stress that has accumulated in the tissues, muscles, and joints of the face, head, neck, and shoulders. It aims to rebalance your body's energies.
The client remains fully clothed for the treatment. The therapist uses a range of different movements over the neck, shoulder, and scalp areas. In addition, the therapist will also gently stimulate and stroke pressure points on the face.
Benefits of Indian Head Massage include the relief of stress, tension, anxiety, depression, fatigue, insomnia, headaches, migraines, and sinusitis.
Career Opportunities: 
This course will provide you with additional skills which can be added to your curriculum.
Frequently Asked Questions
Questions? Get In Touch With ISBT
International School of Beauty Thereapy
Triq Galanton Vassallo, Santa Venera, MALTA.
+356 2144 0424 // +356 79217171
Email: sharon@bcc.com.mt
Opening Hours: 8am to 5pm (Monday to Friday)
Questions? Get in touch with the International School of Beauty Therapy using the links below: